Are you supervising your online reputation?
By Jorge Garzon
Let's face it, the majority of people all ages nowadays are more connected to the internet than ever; and the statistics don't seem to be going down. With technology playing a huge role in our everyday lives, businesses around the globe see opportunities to broaden their publicity by stimulating public interest and putting their names all over the sites millions of visit.
However, although having your name all over the internet can be good for publicity; chances are you're going to run into some bad reviews.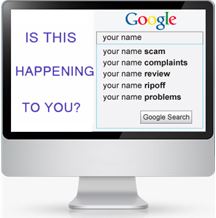 Not only are companies using paid advertisements to get their name out there, but there are also many free online directories that people go on to review a business and help other people looking for the same product, food, or service. People now find themselves searching the company on Google to find out more information about a business and see what others have to say about them.
Why is this important? Because the customers already have a first impression of your business before they even contact you, by reading reviews other customers have left; either good or bad. Ratings usually range from 1-5 stars and comments can really drive away or motivate a customer to call you.  Sites such as yelp.com has thousands of businesses listed with even more reviews on each business. It Helps people find reliable local businesses. Having 138 million monthly users in Q2 of 2014, and having over 61 million local reviews, people really seem to want to know what others think of a business before the interact with them.
Although not every business is perfect, and especially in the freight brokerage company some problems may arise from time to time, handling a bad review or complaint that is resolved promptly after a series of "good" reviews looks excellent for public relations. A way to handle a negative review is to introduce yourself, thank them for the review, apologize, acknowledge their complaint and explain what you have done to address it. Invite them to respond or if necessary contact you offline. If the comment is unsubstantiated, Always take the high road and offer to resolve the issue offline. Other eyes will be watching.